ONLINE BRED HEIFER SALE
June 23 is our ONLINE BRED HEIFERS SALE
Thanks for a GREAT SALE! Click to view what sells on June 23, 2019.
Click to download sale catalog.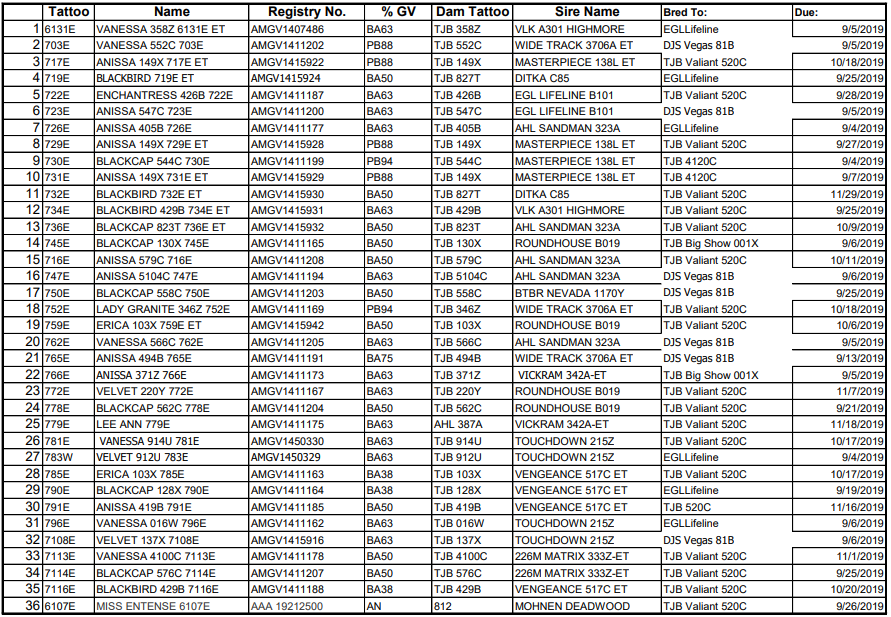 ---
TJB Females
The focus since the beginning at TJB has been to identify the superior females and cow families and utilize those individuals in a ET program. It has also been our emphasis to place those dominant females in a pedigree as many times as possible. We have continued that philosophy when incorporating Angus genetics into our program. We strongly believe that if you will take the time to analyze where we are today, you will be impressed with the quality individuals from top to bottom. We have made a concerted effort to reduce our mature cow size and maintain the easy fleshing, quality udders, and sound structure.
We have made the decision to not sell females in our sale in November. It is very difficult to manage the pairs that are necessary for us to produce the age bulls we need to market. Due to the nature of my ET business, it is imperative that we hold the bull sale in early November before ET season really gets started. That being said, we are currently going to market our bred females in the spring each year private treaty until our numbers reach a level to allow us a bull & a female sale.
Please sign up or visit the web site for announcements on the female sales as they become available. Of course we always entertain anyone interested in purchasing quality individuals from our program so don't hesitate to contact us.